The website in the Unizite app has been given a new layout where functions such as the inboxes, project overview and registration of a new case / checklist have been added. In connection with the inboxes being moved to the homepage, we created improvements to the list of all cases and checklists. The new structure will simplify the use of Unizite for you and clearly signal what is most important to prioritize right now based on your role in the project.
Easy registration of a new case or preparation of a new checklist
From the website, it was previously possible to report incidents in the workplace, and now we have also made it possible for you to easily register a new case or draw up a new checklist if it has not been planned before. You can still place all registrations from the website on one of the drawings available in the project, as well as all registrations can be made directly from a drawing just like before.
Smooth filtering and free text search
In the new list of cases and checklists, you can filter and free text search to find what you are looking for. In addition, the filter specified in the list is now saved for each user and per project, so that everyone can easily get control of what is important based on their role in the projects. If the filter options are not enough, you can use the free text search effectively, which searches for all visible information in the list. A small tip for optimizing the search is that you set the most important parameters at the top per case type to make them searchable.

Example: The first four parameters are as shown in the image below.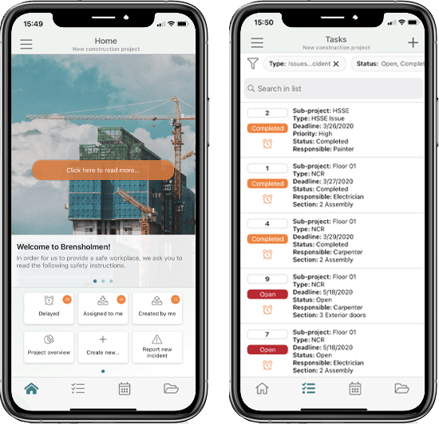 For more information about Unizite click here or contact us directly for a demo.