Together we create a digital model that helps the property owner in the management phase. Joakim Larsson, Digital Leader Design at Skanska, shares his experiences of Bimeye in the Villa Brogården project, a multi-residence housing facility intended for the elderly in Alingsås.
Villa Brogården and Skanska
Joakim's role is to promote digital development at Skanska. In his work, he coordinates the designers and secures their digital deliveries to the project and provides support during the design phase.
Villa Brogården in Alingsås is a self-developed project by Skanska which is carried out by several different Skanska units in close collaboration. In Villa Brogården, the Skanska units have together raised the bar further and jointly set their own project goal where the ambition is to make an extra effort to become a reference project within Skanska and a role model in all of Skanska's sustainability areas. This ambition and curiosity welcomed Joakim when he presented his thoughts on moving the project forward and Skanska in the digital development. The methodology Skanska has built and supports in Bimeye, and the experience gained in the project, is intended to be disseminated further in the company and in future projects.
This is how Skanska uses Bimeye
With the help of Bimeye, Skanska can enter metadata and thus create an IFC model that contains all the information that the operation and maintenance needs. Changes implemented during construction are introduced into the IFC model on an ongoing basis. By providing an exact and updated copy, a so-called "digital twin", the manager gets access to the right data at the same time as Skanska.
With the support of Bimeye, Skanska has developed a solution that is simple, quality-assured and cost-effective.
"When we came in contact with Tribia and Bimeye, we did not know who was the buyer of Villa Brogården. This meant that a management system was not chosen and thus our idea was to create a solution that would suit as many people as possible, "says Joakim Larsson, Digital Leader Design at Skanska.
"In most property systems, it is possible to enter IFC models or Excel files. Bimeye can produce both of these formats, which is why we chose that system. First and foremost, we wanted a general solution and we got that with Bimeye" says Joakim.
Skanska has an internal need for metadata on the models and also on what they deliver for data to the customer. "It is not only the physical building that is Skanska's product, but also the digital real estate solution where Bimeye is helpful, where we enter all the data we get from the design and production," says Joakim.
The trend is that public customers require more metadata for their management system. In some cases, very many parameters are required. "In such projects, Bimeye is a good tool because then not all the responsibility lies with the designers but also the contractor can help create this data," says Joakim.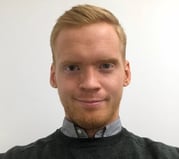 "Much lies in the construction companies' willingness to deliver a digital twin. It is an extra cost with Bimeye but you increase the value of the product. We deliver a better product and with more value for the customer" says Joakim Larsson.
Increased efficiency and lower costs with Bimeye
With the help of Bimeye, Skanska has collected the requested information for the operation and maintenance process. The working method has proven to be very successful and the estimated time for the work effort is significantly lower, compared with the budgeted time. It is estimated that the project would take about 200 hours. This included training Bimeye, collecting data and entering all metadata. It turned out that it went much faster. In future projects with the same working methodology, Skanska estimates that it will take about 30 hours.
Skanska also sees the possibility of using Bimeye in the purchasing and calculation work
"We saw that there were quite big advantages for us in our purchasing department because we can add information and share the model the way we want it. We can divide the objects that belong to apartments, corridors or similar, and then we can import it into our finance program. Then we get the costs directly for the specific room without having to do much. It will be a huge time saver. We have not come that far yet but we see the possibilities" says Joakim.
Bimeye in future projects
The problem with the models that Skanska has used before is that they seldom get exactly the way they want them. With the help of Bimeye, Skanska can enter parameters themselves and divide these in a way so that they automatically get a 4D plan via their own program. The objects in the model are automatically linked to their schedule and then a film is created that shows how the building will be constructed.
"The film is useful in several respects, especially for visualizing the project. It is also useful in technical matters together with subcontractors and clients."
Future projects within Skanska that need digital solutions will be offered to Bimeye
Future projects within Skanska that need digital solutions will be offered to Bimeye.
"When it comes to a project where we or the client sees a need for a digital solution, we will use Bimeye. The program supports that we develop ourselves and to work with complex projects. We experience the program simply and flexibly, which meets future needs" concludes Joakim Larsson, Digital Leader Design at Skanska.
Are you interested in how Tribia and Bimeye can help you in your construction projects?
Contact us on 08-455 53 30 or via email: salj@tribia.com