Tribia and Dimension10 initiate a strategic partnership to further improve and digitize cooperation in the construction industry and increase the quality of construction projects with VR.
Efficient meetings and faster decisions on a virtual construction site
Tribia has been a leader in digital collaboration and development in the Norwegian and Swedish construction industry since 2001 and is considered by many to set the standard for digital collaboration tools. In recent years, Dimension10 has worked with the development of a visualization and collaboration platform based on Virtual Reality technology, where they have won several international awards for their product.
Through this collaboration, you as a user of Interaxo will be able to experience your models through the D10 - as if they were built in real life. This will contribute to fewer errors and increased quality, but also reduce the need for physical meetings that can now be held 100% virtually, and also improve collaboration through a 3D experience.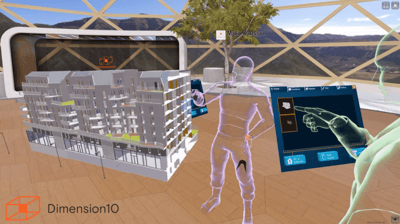 Mutual tool - for both partners and customers
By entering into this collaboration, both Tribia and Dimension10 ensure increased benefit for their customers, a profit that both parties are very pleased with.

"We are extremely pleased with this collaboration. D10 gets the opportunity to work close to Tribia and their customers, and in that way both achieve much more than we would have succeeded in on our own. We benefit from existing collaborations and customer relationships and at the same time work closely with a player who has developed leading software solutions for the construction industry for almost 20 years. For its part, Tribia will have the opportunity to offer its customers a world-leading collaboration and visualization platform based on VR - a technology that is becoming increasingly important. This collaboration is a win-win in all areas and we look forward to getting started." - Aleksander Langmyhr, CEO, Dimension10

"Through Dimension10, we get a partner with VR technology that supports our vision of improving the interaction in construction projects, which makes it possible to detect even more errors in the design at an early stage and thereby further reduce construction costs. The integration with Interaxo makes the models available faster and easier in the D10, where you get a unique opportunity to experience them in VR. The partnership with Dimension10 is an exciting strategic part of our product range, a solution that improves project implementation and provides added value in the use of Interaxo and our BIM collaboration solution." - Steinar Svinø, CEO, Tribia.
BEAst and InteraxoFor more information contact:
In our solution Interaxo, you can reduce the number of deviations by improving the quality and creating an overview when distributing approved construction documents and models. Interaxo helps you ensure that project requirements are met, which means that you save time and ensure increased project margins. In Interaxo, documents, documents and models can be described according to BEAst's name box and metadata, which makes it easy to create the structure defined in the standard. This distribution, to create access to the documents in the workplace, can be done with the help of our field tool Unizite.For more information contact:
Fredrik Nirvin, Country Manager, Tribia
Phone: +46 70534 80 80, e-mail: fredrik.nirvin@tribia.com

Aleksander Langmyr, CEO, Dimension10
Phone: +47 45 15 32 85, email: aleksander@dimension10.com
About Tribia
Since 2001, Tribia has been a leading player and supplier of collaborative solutions for projects in the construction sector. Today, we are the market leader in the Nordic region with our BIM Collaboration solution, where projects collect, quality assure and communicate building information in a single solution through all phases of the project. We digitize and improve project implementation.
We are 80 employees who develop, deliver and manage the products Interaxo, Unizite and Bimeye, which are part of our BIM Collaboration solution. Everyone is committed to realizing our vision: "Together we will create project happiness". Tribia is part of the Addnode Group, an international information technology company with 1,500 employees in 17 countries.
About Addnode
Addnode Group is an international IT company with 1,500 employees in 17 countries. In close collaboration with our customers, we create digital solutions for software and services to build a more sustainable society. Our customers use our digital solutions to design, build and manage products, properties and infrastructure. In the public sector, our digital solutions enable efficient management and communication with citizens. In 2019, net sales amounted to NOK 3,585 million. Addnode Group's B share is listed on Nasdaq Stockholm.
For more information, visit: www.addnodegroup.com
About Dimension10
Dimension10 is a leading player in collaboration services based on VR technology for the construction industry. For several years, the company has worked actively to build an intuitive platform that makes it easier to interact with and around 3D models and BIM methodology. Using Dimension10 makes it easier to meet more stakeholders and partners across geographical boundaries, more often. We help to give the BIM models more value and improve communication in projects.
More information about the solution and the team behind it can be found at: www.dimension10.com