We at Tribia have now made BEAst-adapted configurations of our solutions so that we support from the early stages and through the project processes all the way to the construction site.
BEAst configuration in Tribia's solutions
BEAst stands for "Construction Industry's Electronic Business Standard" and currently has just over 100 members. The members are leading companies and organizations from different parts of the industry that work together in a network to develop the industry's e-Business.
BEAst has, with the support of SBUF projects, produced "BEAst Namnruta" and now also the governing document "BEAst Namnruta - Indication of Document and Status" - to handle the law in the production of documents during the approval process. Participating companies during the development have been within the working committee "BEAst Bygghandlingar" with expert experts such as Jörgen Mann, NCC Building, Marcus Bengtsson, Tikab, and ongoing reconciliation during the implementation with SIS / TK 269 Information for construction and management, Swedish Institute for Standards.
BEAst and Bimeye
This means that your project can be configured according to BEAst and that all metadata follows the standard, which creates the conditions for door cards, room descriptions and lists. Several models can be linked to your project, thus generating the same structure for all models and documents. This makes it easy to get an overview of all information and to create reports according to BEAst's templates.
Bimeye creates the conditions for documents, created based on the collected information, in the long run to be linked to the project's other documentation through hyperlinks according to BEAst.
BEAst and Interaxo
In our solution Interaxo, you can reduce the number of deviations by improving the quality and creating an overview when distributing approved construction documents and models. Interaxo helps you ensure that project requirements are met, which means that you save time and ensure increased project margins. In Interaxo, documents, documents and models can be described according to BEAst's name box and metadata, which makes it easy to create the structure defined in the standard. This distribution, to create access to the documents in the workplace, can be done with the help of our field tool Unizite.
Increase efficiency and quality from idea to management
Based on the above, we can now make it easier for our users to more easily apply the system support in both Bimeye and Interaxo, where the preconfiguration will save a lot of time and help our customers to focus on the parts that create value in their construction projects.
Bimeye simplifies the extensive and often manual handling to create information in models and on documents. This means that you can increase the efficiency and quality from idea to management. The solution supports work with BEAst's name box as well as term list and metadata. In addition, the project can be adapted to specific requirements for information that is not linked to standards.

List of actions in BEAst.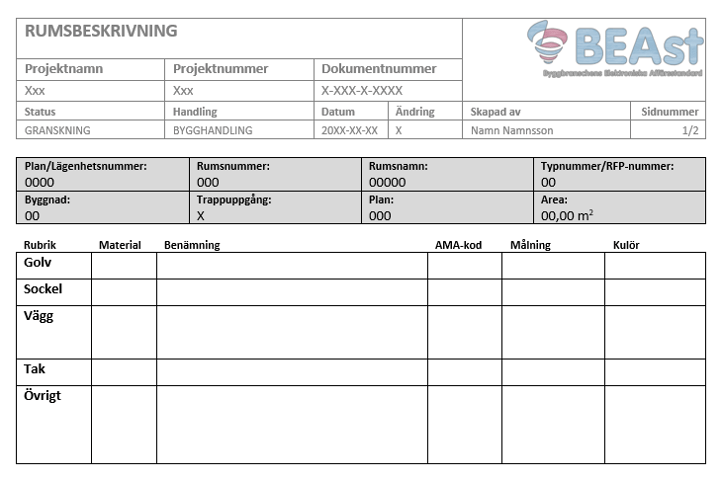 Room description in BEAst.
For more information about BEAst click here.